Monster Hobbies 2018 Model Car Contest
August 28 2018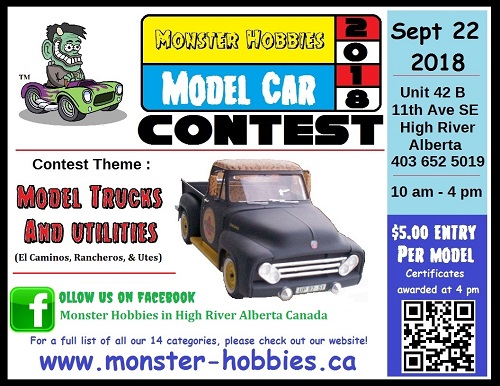 Hey everybody!
It's that time again...time to get your model cars ready and bring them down to Monster Hobbies in High River Alberta Canada on Saturday, September 22nd 10 am - 4 pm.
Here's the other categories mentioned on the poster:
Road Cars – Out of the box ----- Competition Drag Racers
Road Cars – Moderate Detail ----- Competition Closed Wheel
Road Cars – Detailed ----- Competition Open Wheel
Concepts and One Of a Kind ----- Light Commercial / Service
Hot Rod and Custom ----- Heavy Commercial
Auto Diorama ----- 1/32nd Scale and Under
Motorcycles ----- 1/20thScale and Up
$5.00 entry fee per model. Certificates awarded at 4:00 pm.
Check out the River City Classics burn-out show in town from 5-7 pm!
Monster Hobbies Unit 42 B - 11thAve SE
High River, Alberta – 403-652-5019
Comments