Monster Hobbies 2021 Build A Monster Contest Form
July 28 2021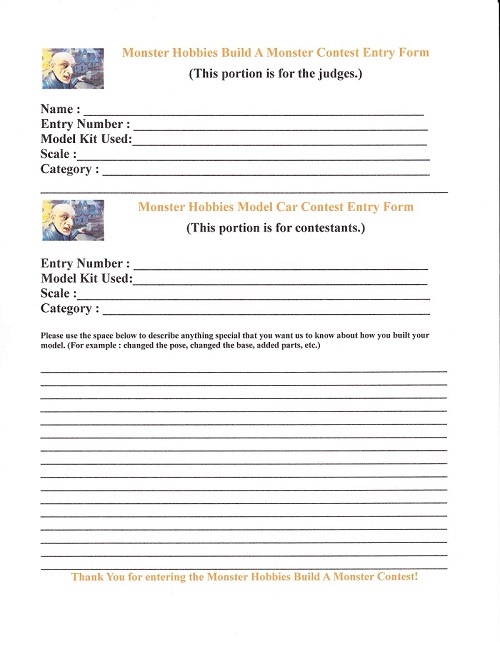 Hey everybody!
Here's the contest form for the annual Monster Hobbies Build A Monster Contest for 2021!
You can print it off now, or wait until you come in on the entry date.
For online entries, you don't need to print off this form and re-scan it and send it back. Simply include the model kit details and descriptions with your photos in your Email.
All details of the contest are below for reference.
Our special theme for 2021 is Godzilla VS King Kng.
You can use the Atlantis model kits, Aoshima model kits, or any of the other numerous cartoon models that are produced.
(This contest is not affiliated with Atlantis Model Company, Round2Corp, or anyone else. It is all done by Monster Hobbies. However, as a courtesy, I will list links to their web sites below.)
http://www.atlantis-models.com
https://www.round2corp.com
http://www.monster-hobbies.ca
Once again this contest is open to online AND walk-in entries.
For walk-in entrants :
It's that time again...time to get your spooky model kits ready and bring them down to Monster Hobbies in High River Alberta Canada on Saturday, October 30th from 10 am - 4 pm. The contest starts at 10 am, category and entry papers are provided. $5.00 entry fee per model. Certificates awarded at 4:00 pm.
Monster Hobbies
Unit 42 B - 11th Ave SE
High River, Alberta – 403-652-5019
For online contestants :
Simply send 4 good pictures of your models to ursulescu@yahoo.com with a description of what you did to your model and which category it is in.
The online deadline is midnight October 31st Alberta time.
Winners announced by November 5th 2021 on Facebook.
Online entry paid through Paypal or phone the store for other payment options.
Here's a full list of the other categories that I mention in the video :
MonMH1 - Out Of The Box Builds ----- Any kit build right out of the box (OTB)
MonMH2 - Concepts and One of a Kinds ----- replace a few parts on your "OTB"
MonMH3 - Totally Wild ----- Ed Roth, Dave Deal and other cartoon kits
MonMH4 - Monster Figure Diorama ----- Where does your monster live? Show us!
MonMH5 - Creepy Cars ----- Ecto 1, Hearse, Mystery Machine and more.
MonMH6 - Haunted Houses ----- Bates Motel, Psycho House and more.
MonMH7 - Science Fiction Figures
MonMH8 - Science Fiction Vehicles
MonMH9 - Evil Wargaming Minis - Gaming figures
MonMH10 - Dinosaurs and Prehistoric Scenes
MonMH11 - Heroes and Superheroes
MonMH12 - Figure Busts - full size head and shoulders
MonMH13 - Annual Special Subject
Hope to see your entry and have a fun contest!
Some additional info for Online Entries. :
FTC Disclaimer: This is not a sponsored video, and neither YouTube or Atlantis Model Company, Round2Corp, or anyone else, are sponsors nor party to the contest on our website. All award items were purchased by us, Monster Hobbies, personally.
Any entries not following the YouTube Community Guidelines will be disqualified. Personal data from the contest will NOT be used or shared in any way, shape or form.
#buildamonstercontest2021 #godzillamodelkits #kingkongmodelkits #monsterhobbies
Comments