About Monster Hobbies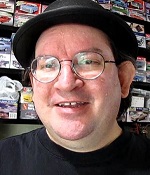 Welcome to Monster Hobbies Online.
My name is Trevor Ursulescu and I am the owner of Monster Hobbies, an online "Mom and Pop" hobby shop. My wife and I started Monster Hobbies in 2004 in a small booth at the Heritage Flea Market in Calgary, Alberta, Canada and expanded our business and family through the years, moving from Calgary to High River, Alberta where we have been servicing the Alberta Foothills for over 16 years!
We always enjoyed our Brick and Mortar physical building locations over the years, meeting members of the community and surrounding areas and acting as a hub for hobby and gaming activities which included slot car racing, war games, model building contests, monthly seminars and demonstrations and many more activities.
In September of 2021, we realized that we could best serve the hobby community by increasing our online presence. We made the decision to temporarily close the Brick and Mortar location and focus our efforts on our online web site, YouTube Channels and social media in order to grow our online presence and community.
We have a wide selection of plastic model kits, war games, card games, compatible building block toys, hobby tools, model trains, scientific models, comic books, role playing books and much, much more.
The Monster Hobbies No-Nonsense Satisfaction Guarantee.
My personal guarantee to you.
You will receive the very best personalized customer service our company can offer.
Although we no longer have a physical Brick and Mortar store location in the Town of High River, we can still make arrangements to deliver our products to you locally or meet for a pick-up in a neutral location. Please use our phone number below to contact the store to make such an arrangement.
For online transactions, we use Pay-Pal and a Secure-Pay Credit Card Processing equipped shopping cart. If you decide to make a purchase with your credit card, all your credit card information is digitally erased on our end after the transaction goes through. This is your best protection as no one, not even our company, can gain access to your data. If you decide to make a second purchase using your credit card at a later date, you will have to enter in that information as if it was a first time sale.
We do not sell your personal data to third-party companies. Whatever you submit on your order is between you and our sales staff. We will work with you on a one-to-one basis.
Monster Hobbies Online ships using Canada Post and can send packages throughout the world. Although we try to accommodate the price of shipping on domestic orders, in some cases we may need to contact you to cover some of the expense depending on the destination. If this is an issue, we will contact you and work out a solution together. Once the package is shipped, we will contact you via email with the Canada Post tracking number so that we can follow the package on it's destination to your house or delivery location.
We will never farm out our customer service to any third-party company call centers where that company has zero knowledge of the original order. We all know how frustrating that is and I would never want to put a customer through an experience like that at our store.
I will personally correspond directly with you to insure you receive the best service possible in the very shortest amount of time. I endeavor to solve the problem now and take care of minor details later. It's just good business practice.
Every situation is dealt with on a one-to-one basis with the customer always receiving the benefit of the doubt. I strongly believe that every customer simply deserves this. If I was in your shoes, I would not expect anything less from a company that I give my loyalty and money to.
If you have any questions regarding our The Monster Hobbies No-Nonsense Satisfaction Guarantee then by all means email me at
sales @ monster-hobbies.ca (remove spaces)
I'll personally answer any and all questions you may have.
Thank you for choosing Monster Hobbies Online!
Trevor Ursulescu
President : Monster Hobbies Online

Phone: 403-652-5019
E-Mail: sales @ monster-hobbies.ca (remove spaces)