World Race Germany Slot Car League
March 2 2019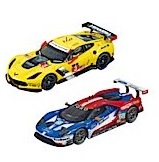 World Race : Germany
Monster Hobbies next 1/32nd Scale Slot Car League will begin Wednesday, March 6th 2019 at 7:00pm!
Over the course of 8 weeks, we will be racing on 8 different street circuits from Australia.
In this league, we will be racing Carrera Corvette C7-R and Ford GT race cars.
The allowed cars are as follows and will need a Digital Chip or be Digital Equipped before the race:
Corvette C7-R Ford GT Race Car
This cars can be in any available livery and you are allowed to have a total of 3 in your racing stable for the duration of the league as back-up cars in case of accidents or brake-downs.
(You will need a minimum of one car to race each night though.)
The race schedule is as follows :
Week #1 – March 6th – Hockenheim
Week #2 – March 13th – Oschersleben
Week #3 – March 20th – Norisring
Week #4 – March 27th – Sloituderennen
Week #5 – April 3rd – Nurgbering
Week #6 – April 10th – Nurgbering Sudschleife
Week #7 – April 17th – Autobahnspine
Week #8 – April 24th – Schleizer Preieck
Race points per driver per "Heat" will be awarded using the 1965 Formula 1 race points system as follows :
1stplace = 9 points, 4th place = 3 points,
2ndplace = 6 points, 5th place = 2 points,
3rdplace = 4 points, 6th place = 1 point.
Each race night has a total of three "Heats" which will be added up at the end of the race night to determine the night's victory standings. At the end of the League on April 24th, 2019, all 8 weeks totals will be added up to determine the League Champion.
Race standings will be posted on a white board in the store.
The standard $10.00 entry fee and the Monster Hobbies Track Buck system will continue as usual with The League Champion winning a special award at the end of the League.
Good luck to everyone and may the best driver win!
Comments